I've always felt like life was living on a boat, always trying to get through the storms, slowly making it from island to island, sometimes you'll get seasick and sunburned but no matter where, you'll always have an amazing view. Little did I know that turning 30 would mean that that's exactly what I would get to do.
A and I had made our way over the border from Canada into Washington state and let me tell you, I've never been anywhere in the US where there were so many German speaking people and honestly, it really caught me off guard. If any of you could explain to me why so many officers at the border between Canada and the US speak German, I'd love to hear from you! Anyways, so once we crossed, A had me navigate to a place that I had never heard of (mind you, I still had no idea where we were going but happily directed A to our destination). Little did I know that we were going to take a ferry to an island called Lopez Island, which is across from Orca Island. Now, of course, my brain was going a million miles an hour. If an island was called Orca Island you better get to see some Orcas near the Island! But once we actually arrived on Lopez Island all my ideas of what we possibly could be doing here disappeared.
See, if there would have been any whale watch opportunities from Lopez Island, there would be an infrastructure for that in place and let me tell you, it was not. Lopez Island is tiny and… Well, that's really it. It's just tiny. A had me navigate to another address and promised me that it was the last stop of the day and I was looking forward to some TV watching in a hotel room, while ordering room service (yes, I'm that person). But A pulled into the parking lot of a dingy looking diner, like in the movies. As I was getting out of the car, I thought to myself, that there was no chance I could possibly stay in there… But to my surprise, A didn't walk towards the diner, he walked towards the water on the opposite side.
So I followed, slowly (and bravely). And I followed him down the path, down the dock, down to this beauty: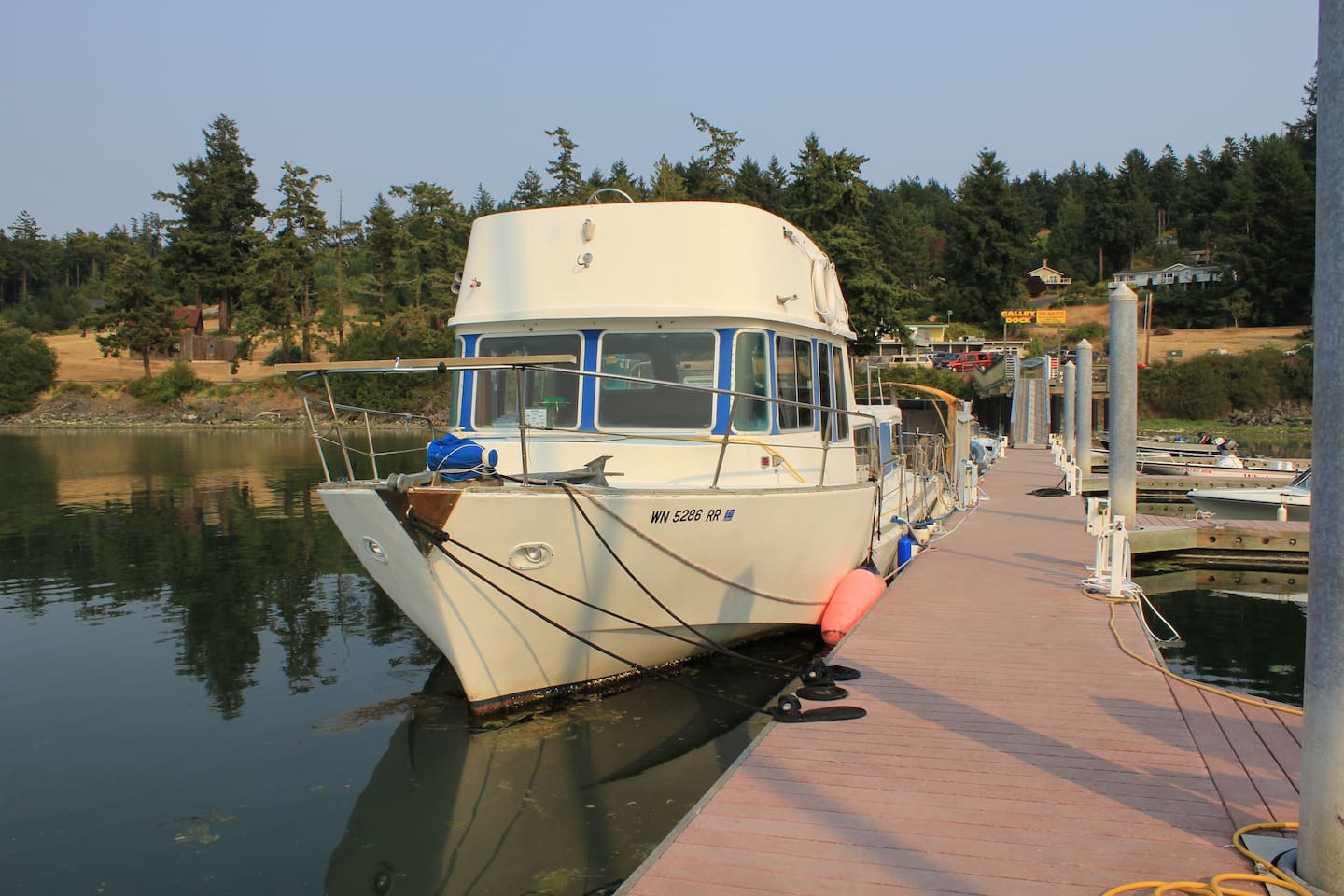 Now, my brain was still not registering, what was going on, even as A was unlocking the door and grinning at me from ear to ear. I shook my head in disbelief but there we were on a 40-feet-long boat (or how anyone with a normal measuring system says: 12 meter long boat). And man, those things are cool! I've never considered RVing as an option for myself, but I'd totally boat anywhere, if I could!
I'd love to show you inside photos of our humble home for four days, but somehow A and I managed to get photos of everything but that. I later asked A what made him get this awesome airbnb and he said, "I looked at a bunch of airbnbs in the area and I thought, which one makes me most uncomfortable, and I went with that". A was afraid that the boat would be shaky but being in a protected harbor, his worries were unwarranted. We had lovely sunsets every nights and even more wonderful sunrises every morning. We had breakfast with seals swimming next to us, looking curiously through our windows and although we didn't have any of the hotel-amenities which I absolutely love, nothing, beats this accommodation!
Every morning A would make some avocado toast while I would fan with a dish towel at the fire alarm, making sure that the toaster wouldn't set it off (which it did, several times). Every night we were freezing cold, because boats like that don't trap the heat (we learnt that the hard way). We showered with so little water pressure, we may as well have not showered at all. We had no internet connection or TV, so we had to run down to the town's store to check our emails every now and then. But honestly, I wouldn't trade anything for this amazing experience. I know that I put my husband in many uncomfortable situations (and this one ranks pretty high), but words cannot describe how incredibly grateful I am to A for making this dream come true…